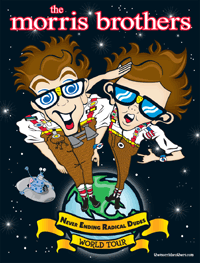 They're hip, they're hot, they're cool, and they're nerds?!
That's right, but they believe N.E.R.D. stands for a Never Ending Radical Dude. With their offbeat appearance, the Morris Brothers capture the attention of young and old alike. They may look like nerds, with their taped glasses, pen-stuffed pockets, and less than stylish clothes, but they believe they are "Superheroes" on a mission to save the world.
Only one thing is certain... kids love them!
These fifty minute presentations deliver an educational message in a humorous way via music, skits, comedy, and audience participation. This year, the Morris Brothers are offering the following special program topics for their school assemblies.
Call (800) 326-5917 for pricing & travel costs
Assembly Topics:
FUNdraising - The Morris Brothers way

You may choose from any of the assembly topics above, or, the Morris Brothers can customize a program to meet the needs of your school. All Morris Brothers assemblies will emphasize the main topic above as well as teamwork, self-esteem, making good decisions and the acceptance of differences in others. Four original songs are performed from the Morris Brothers CD - Let's Unite the Nation.

The Morris Brothers believe learning can be fun, and over the past few years they have educated and entertained television and online audiences as hosts of the Fox Kids Club and their own website TV show - the Adventures of the Morris Brothers. Their TV special won a Heartland Regional Emmy and their musical songs have hit the Top 10 Chart on the Children's Broadcast Network. They have performed for children from New York to Hollywood, totaling more than 2,000,000 kids so far. Now you can have the Morris Brothers live delivering their message directly to students at your school or event

The Morris Brothers performance is a turn key operation. They will bring their own sound system. Follow-up lesson plans & classroom handouts will be provided to your teachers and counselors with each assembly ordered